The Caribbean was made for cruising: sun-drenched sands, turquoise seas, and balmy breezes. However, there's so much more to see beyond the blissful beachfronts. You can hike through tropical rainforests, explore ancient ruins and dive into underwater adventures... A Caribbean cruise will take you on a captivating journey filled with unforgettable sights, sounds, tastes and colours.
5 reasons we love the Caribbean
Year-round sunshine
Countless islands to explore
Friendly locals and their infectious zest for life
Mouth-watering cuisine
Exciting excursions and adrenaline-pumping adventures
Perfecting pairings
A cruise and stay holiday offers the perfect opportunity to combine the tropical islands of the Caribbean with vibrant cities, world-famous landmarks and cultural attractions.
New York
Explore the magical metropolis of New York City. Shop-til-you-drop at some of the best department stores in the world, take a stroll around Central Park, catch a Broadway show and see the iconic Statue of Liberty.
Miami
Miami is brimming with sun-drenched beaches, fabulous shops, and funky bars. Uncover the city's thriving art scene, admire the pastel Art Deco architecture and Cuban cuisine and culture in Little Havana.
New Orleans
Immerse yourself in the sounds of soul, rhythm and blues in the charming city of New Orleans. Discover a unique blend of cultures, fascinating history and delicious Creole cuisine.
Barbados
While it's understandably famed for its spectacular beaches, Barbados is an island that has it all. As well is palm-fringed, powder-soft beaches, you will find colourful coral reefs, an abundance of wildlife, mouth-watering cuisine, beautiful gardens and charming locals.
Popular ports of call
The islands of the Caribbean are wonderfully diverse, yet consistently warm and welcoming. Discover Dutch Colonial architecture in St Maarten, sample exotic flavours in Jamaica, see towering mountains like Petit Piton in St Lucia and explore the lush rainforests of Belize. Wherever you visit, you'll enjoy mouth-watering cuisine, beautiful beaches and bright blue seas.
Private Island's Retreats
Holidaying on a private Caribbean island used to be only for the A-list, however, did you know that many cruise lines have their own exclusive retreats? Half Moon Cay serves as a private island hideaway for passengers of Holland America Line, with Princess Cruises you can visit Princess Cays and take part in a full range of water sports, or simply relax of the beach. And, Royal Caribbean's Perfect Day at CocoCay is home to white sand beaches and a host of exhilarating experiences to quench your thirst for adventure.
A taste of the Caribbean
With cultural influences from all over the world, sampling the food is a journey in itself. From the fiery spices that will set your taste buds ablaze to the delicate fresh favours of seafood served in beachfront bars, discovering the taste sensations of the Caribbean will leave you wanting more! Plus, don't forget to sample a Caribbean cocktail or two and experience the vibrant flavours of island life.
While you may not be able to visit the Caribbean right now, celebrate the prospect of brighter days ahead with a refreshing Mojito recipe.
Ingredients:
65ml white rum
Soda water (to taste)
2 ½ tsp white sugar
1 ½ fresh limes
20 mint leaves
Method:
Place the mint, sugar, and limes into a glass and "muddle" together to release the flavours. Add the ice then pour in the rum, followed by a splash of soda water. Stir well and garnish with more mint or lime.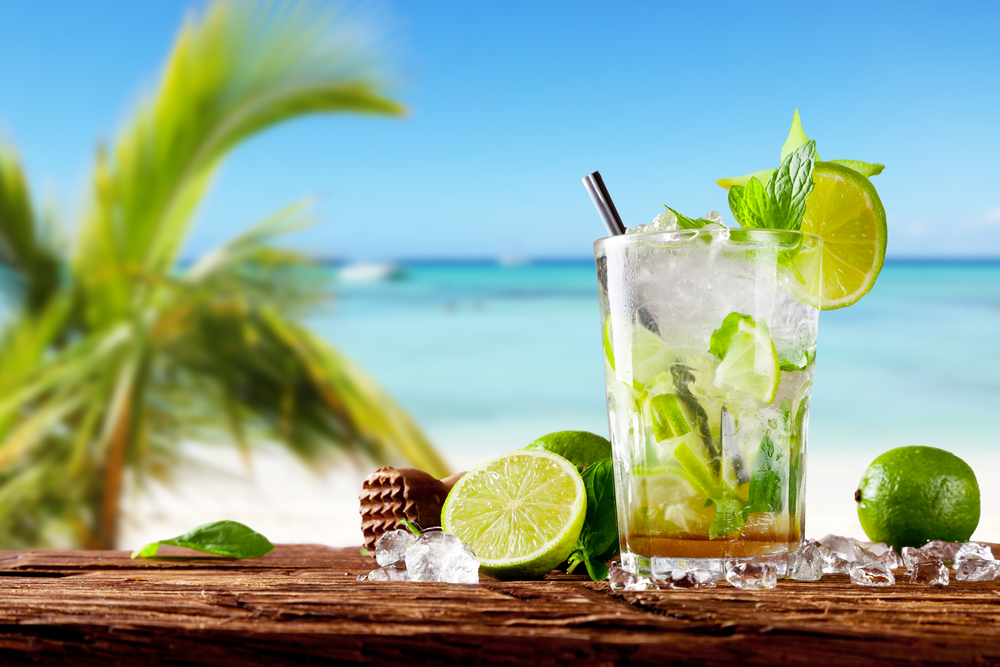 Our Cruise Experts
Many of our Cruise Experts have experienced the colourful Caribbean first-hand and they are here to help you plan your next adventure. Our specialist team can build your cruise holiday to your exact requirements giving you more flexibility and choice.

"From swimming with dolphins to horseriding on the beach, the Caribbean is home to some of the best shore excursions in the world. Snorkelling in the crystal-clear waters is an absolute must."

Naomi Walker, Cruise Expert